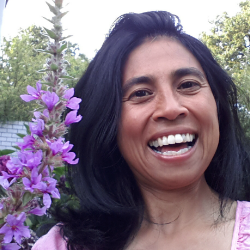 Hi, my name is Monique Aipassa, your host and "Me Time Retreat" facilitator. In the picture below you can see me doing a yoga exercise (Sun Salutations) in one of my favourite natural "sanctuaries", just 5 minutes away from my home.
For the last 18 years I have had the pleasure and the privilege of literally touching the lives of hundreds of people (who have become happy clients) through my massage practise called "Massagebedrijf Vital Touch" (see picture below).

A couple of years ago, I noticed a new longing deep within me. I felt the desire to want to expand my horizon and add something new and different into my massage services. So I embarked on a new journey that lead me to Los Angeles in March 2014. I met my mentor and coach Mary Morrissey during an intensive 3 day live training. Together with almost 600 other amazing entrepeneurs from around the globe, I became a certified Dream Builder Coach!
Here's a message from my mentor: http://moniqueaipassa.lifemasteryinstitute.com/a-message-from-mary

Since then I have created and developed my own unique products and services, where I combine my knowledge, experience and expertise (of 18 years) as a certified Holistic Massage Practitioner with the Art and Science of how to turn your heart's desires into your every day reality.
This one of a kind "Me Time Retreat" is born out of my deepest heart's desires to want to make a significant difference in the lives of 40+ busy moms (just like me) who long to have more "me time" without feeling guilty.

During and after this unique introductory 3 hour mini "Me Time Retreat", you will

Be more in touch with your deepest heart's desires
Be clear on what it is you would truly LOVE
Feel relief of letting go of what is holding you back
Feel rejuvenated and refreshed
Have more energy
Feel more relaxed and balanced
Enjoy your renewed sense of confidence and freedom
Feel empowered to put yourself on top of your "to do list"
Go home with your unique Blueprint of your dream life
Leave your "Me Time Retreat" wanting MORE "Me Time"
This introduction is just the tip of the iceberg.
So for those of you who want to take this even further, you will have the opportunity to embark on a 12 week journey with me called "Vital Touch Retreat".
I will be sharing the details during your mini "me time retreat".

Whether you are Dutch or an English native speaking woman living in Holland, you are more than welcome in my practice.

However, if you happen to be on a holiday or business trip in the Netherlands...feel free to call me to see if I have a spot available for you during your stay!